Welcome to Edward Keirby and Co. Ltd.

Edward Keirby and Co. was founded in 1864 by Edward Keirby, and became a Limited Company in 1913.
The present Directors acquired the business in 1953, and we moved to our present purpose-built factory in Chichester Street, Rochdale, Lancashire in 1977.
Edward Keirby & Co. Ltd. is a family-run business, and we pride ourselves on a speedy and friendly service. Many of our items of manufacture are "specials", and as most of our customers will know, we rarely turn a job down, however complicated!
As the saying goes ...

"IF YOU CAN'T STAND THE HEAT : GET IN TOUCH WITH KEIRBY'S"

Contact us...
Situated close to junction 21 of the M62 motorway we are easily accessible from all major routes.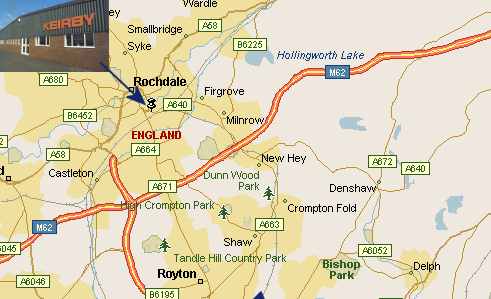 To find us leave the M62 at junction 21 and turn left at the roundabout (east and west routes approach the roundabout from the same direction) following the signs towards Milnrow and Shaw. Keep straight ahead through two sets of traffic lights and you will see Chichester street on the right shortly before the third set of lights. The factory is on the right at the end of Chichester street.
Alternatively telephone on 01706 645330 or fax on 01706 352882

Our postal address is:

Edward Keirby & Co.Ltd - Vine Works - Chichester Street - Rochdale - Lancashire - OL16 2BG
However you contact us you can be assured of our warmest welcome.


WE LOOK FORWARD TO HEARING FROM YOU SOON